Almost everything today is digitally connected …whether at home or on the go. Connected technology saves you time with everything from smart phones to smart home ! Tech Lifestyle Expert Carley Knobloch has partnered with KillerApps.com and four brands for a look at some great smart tech for 2019 that will help simplify your life.
First up … a laptop is a must! Made for today's mobile multi-taskers, the thin and light Yoga C630 combines the power and productivity of a Windows 10 laptop with the always-on, always-connected mobility of a smartphone thanks to integrated 4G LTE and Wi-Fi support.
Powered by Qualcomm's Snapdragon 850 Mobile Compute Platform, the Yoga C630 gets up to 22 hours of local video playback and features a natural pen-on-paper experience on its vibrant 13.3-inch FHD IPS touchscreen display with optional Lenovo Pen and Windows Ink.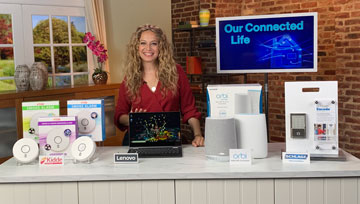 Next, to stay connected at home, Orbi Voice is a smart speaker integrated with Amazon voice assistant, Alexa and uses the Qualcomm Wifi Mesh platform to create expansive whole home Wi-Fi coverage (up to 4500 square feet) to create an entire ecosystem of mesh Wi-Fi products.
Our Connected Life
It also features premium audio technology, creating incredible room-filling sound from the audio experts at Harman Kardon.
Alexa makes it easy to play music from the most popular streaming services, control other IoT devices, check traffic, weather, and so much more – without needing a separate device.
It's truly an innovative leap, and the start of a trend expected to accelerate in the 5G era.Smart products can also help keep families safe. Fire is getting faster, but you can get ahead by installing Kidde Wire-Free Interconnect Smoke Alarms in your home.
Kidde's new interconnect alarm solution offers exceptional safety benefits without the hassle of hardwiring or a Wi-Fi connection. The interconnect technology helps alert you to a fire no matter where you are in your home.
When one alarm senses a hazard, all interconnected alarms sound throughout the home. The alarm also comes with a sealed 10-year battery, which you don't have to worry about changing alarms batteries. Simply replace the entire alarm after 10 years.
Innovative Smart locks
Home security solutions are getting smarter and more convenient too. Schlage Encode is the newest connected device to enhance the brand's portfolio of innovative smart locks. The deadbolt is easy to install, with a quick connection to in-home WiFi, making it even more convenient for homeowners to have secure, remote access control. The built-in Wi-Fi technology eliminates the need for an additional hub and allows users to set-up and manage the lock via the Schlage Home or Key by Amazon apps.
This means users can lock and unlock their deadbolt, monitor the lock's status, and send virtual keys to trusted friends and family, all from the convenience of their smartphone. Homeowners can create up to 100 unique guest access codes for temporary, recurring or permanent access.
This information, along with the lock's activity, can be tracked and monitored within the app, giving homeowners greater peace of mind. Through the Schlage Home app, users can also pair their deadbolt with Google Assistant and Amazon Alexa.
When managing the lock via the Key app, users can enjoy compatibility with other platforms such as Amazon Cloud Cam, Ring video doorbell and cameras, and Alexa.
WHAT IS A SMART HOME?
When you hear people talk about "smart homes," they are merely referring to the way that you can control and monitor your home's systems remotely. You can check the temperature, turn down the cooling, make sure the doors are locked, and much more.
If you want a smart home, you don't have to go out and buy a new home. You can make changes to your current home, adding and installing features that you can control with a computer, a tablet, or a mobile phone. Smart home products are popular for several reasons:
They are convenient.
Save you money.
They keep your home more comfortable.
Make your home safer.
They are easy and fun to manage.
HOW TO CHOOSE SMART PRODUCTS
Smart products can be a little more expensive than your typical home fixtures. For that reason, most people choose not to upgrade their entire home all at once with smart products.
That is one of the benefits of transforming your abode into a smart home. You can choose to do it all at once or in steps. If you want to start with a few essentials, select smart home systems that will have the greatest impact. We recommend asking yourself a few questions to help you decide:
What home systems are costing me the most money to run? Or, which monthly bills related to my home do I most want to reduce?
What home systems do I most frequently forget to monitor?
Which home features do I wish would monitor themselves?
Where do I feel like my home is lacking in safety?
This list should help you narrow down your list to things like self-locking doors and windows, a fireplace or stove with an automatic shut-off, faucets that use more water, an inefficient heating or cooling system, or house lights that are frequently left on when not needed. Smart home products can solve any and all of these problems.
HOW THEY WORK – Smart Home
Smart home products are quick and easy for a professional to install. Just talk to your home builder, plumber, or electrician about smart products you are interested in.
Once installed, they are easy for the entire family to use. You can have your smart products up and running in as little as one day.
First, have the specialist walk you through set up or follow the owner's manual to set up the smart home system initially.
Download any apps you need or set up your account on websites that monitor the smart feature in your home.
Access the app or website at work, at the gym, or anywhere on your phone.
Finally, get a good night's sleep knowing all is well with your home.
You can customize your smart home system to exactly how you want it to work. This is what makes smart homes so convenient.
Every family has different needs, such as when they eat, sleep, shower, clean dishes, and turn the lights on. Your smart home systems will work with your family's schedule, minimizing energy usage and saving you time and money.
HOW THEY SAVE MONEY
How exactly do smart homes save you money? Several ways. Have you ever looked at your water bill and wished you could lower it permanently?
Have you ever wondered what was causing your heating bill to skyrocket? Everyday life and every season has fluctuations, but smart products help to minimize those fluctuations while still meeting the family's needs.
For example, a smart thermostat can be programmed to keep the house cooler at a certain time of day and then warmer during other times.
When the house is always comfortable, there is no need for you to constantly be going back to the thermostat to turn it up. And if you never have to turn up the temperature, then you'll never forget to turn it back down again. An added benefit of smart heating and cooling systems is that they usually include more energy-efficient heaters and air conditioners.
WHAT'S TRENDING WITH SMART HOMES
Manufacturers are constantly coming up with new and amazing products for smart homes. For example, not only can you program your thermostat from your phone, but now you can even install a smart thermostat that can remember your heating and cooling preferences and automatically set your home's temperature without you touching a button. Talk about staying comfortable without shooting your utility bill through the roof! Here are a few other popular smart products on the market:
Water leak sensors
Water shutoff valves to stop leaks
Automated, electronic water softeners/conditioners
Water heater shutoff
Water-conserving faucet attachments
Automatic irrigation sprinkler systems
Energy-saving, programmable thermostats
Automated air conditioning systems
Motion detectors
Automatic, timed lights
Light dimmers
Digital security system
Automated home locks
GETTING STARTED
Make sure you get high-quality smart home systems by talking to neighbors about products they have used and asking the experts about the highest-quality products they offer. You can also tell quality products by whether they come with a warranty.
If you prefer to start slow, choose one or two smart changes to your house. You can experience the convenience and the monthly savings before making further upgrades to your home.
Every upgrade will make a difference and save energy and money. The more smart products you invest in, the more you'll enjoy the benefits!